We are your internet and cable TV providers.
Fast, Reliable, Convenient
11/29/22
You may wonder why I share the Inland Power and Light notice… because if they go down in our area our head end will go down effecting all of you even if you don't have Inland for your power.  Also I am sure Avista (Medical Lake) and the City of Cheney will be posting similar notices if the storm hits as they are predicting.
The National Weather Service (NWS) is predicting a moderate to heavy snow event for Wednesday, Nov 30. NWS predicts very difficult travel condition with low visibility due to falling and blowing snow. The storm has the potential to cause branches to fall, especially on trees that still have leaves.
Key Weather Points:
Light snow begins late Tuesday
Moderate to heavy snow Wednesday
Lingering light snow Thursday – Friday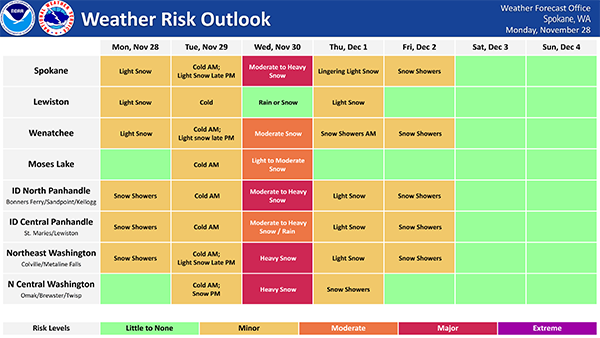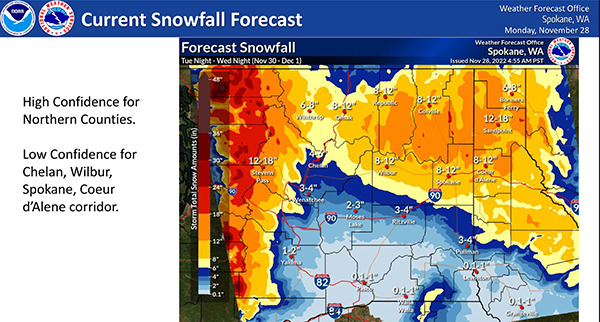 If outages do occur, we will work to provide estimated restoration times as soon as our crews are able to safely complete assessments of any system damage and cause of outage.
For up-to-the-minute weather information, visit the National Weather Service.
While not everyone may be affected, we want you to stay informed and keep safe.
Inland Power & Light
11/14/22
I will start tuning off non-pays tomorrow.
If you are turned off and you pay on-line please call
509-624-7129 so we can turn your account back on.
Providing Service to Cheney, Four Lakes and Medical Lake
Here For You
Davis Communications, Inc. is a local, family-owned and operated business. We have been offering friendly and knowledgeable service to the entire area since 1980.
Cable, Internet, & Phone Services in Cheney, WA.
The Cheney, Four Lakes and Medical Lake
Month-to-Month Contracts
Providing Services to
The Cheney, Four Lakes and Medical Lake
Count on Davis Communications, Inc. for complete internet and cable TV services.
Ask About Our Month-To-Month Service
Why waste a stamp when you don't have to? Davis Communications, Inc. offers easy online payment services.
Locally Owned and Operated

Need help finding your favorite show or TV channel? Find out quickly by viewing our channel guide.
"
Great staff, nice communication. I was a first time client and they explained everything in simple, straightforward terms. Easy installation, and reactive response to any issues that could come up.

" 

Brandon Van Wart
TROUBLE SHOOTING:
Davis Communications, Inc. is a local, family-owned and operated business. We have been offering friendly and knowledgeable service to the entire area since 1980.
Step 1
Unplug router for 5 minutes. (If your internet drops at the exact same time daily, check your modem. It may have been set to do this automatically daily or every so many hours.)
Step 2
If it has been more than a month since you did a factory reset on your router, then Google the maker on how to do a factory reset. If you are using more than 50 G a day in bandwidth, we suggest doing a factory reset more often. 
Step 3
The faster speeds may be too fast for your router.  Some routers can only handle 100M or less. 
Step 4
If you are buffering when streaming TV: Netflix has put out the suggestion to go into your account and drop down to standard def or a lower HD to save on bandwidth. (It's unclear if this works on other streaming systems, but this explains why some people can stream Netflix on 10 M.)
Step 5
If you are trying to work from home, watch TV, and someone is gaming, you need to prioritize work and homework and save online games for after work hours (or upgrade your speeds).
Step 6
Speed checks only work directly wired to the modem. Routers will only provide the speed your device needs, even if it is the only one online.
Step 7
Unfortunately, routers do not last forever if you are buying a new one, we recommend a smart router. There are Mesh Routers out there that really help those with larger homes. (I like mine… I bought it at Costco) 
Step 8
Please make sure your connections are snug from wall to modem both the coax and the electric. It is possible they get bumped and they come loose.
After Hours Help:
Internet after hours help tech: 1-877-381-6522
VOIP/ phone after hours tech: 1-866-883-6997
Moving / Closing Account:
If you are moving and your account is current you can just turn in your equipment and power supply in the drop box out front 24/7 (it is towards the middle of the building in front) and we will turn off and close your account.
If you owe please try to come into the office (9 AM to 5 PM) to pay final amount and drop off equipment. OR call and pay with credit or debit between 9 am and 5pm and have modem dropped off .
Non-pay:
We turn off account that are 2 weeks over due. IF the payment was due on the 25th we will start turning off account that still owe on the 10th of the month.
We do not call before turning off the account. We highly recommend paying your bill on time if you are using the internet for school, tests and work.
If you are turned off for non-pay and you pay on line please call and leave a message; we check messages first thing in the morning and we might not get to checking the "who paid" over night list until lunch time. Especially on a Monday mornings. 509-624-7129
Snowbird:
If you will be gone a month or more but coming back to the current address instead of closing account we can turn it off so you will not be billed while you are gone for the winter or summer or whenever you will be away from home for an extended period of time.
Davis Communications, inc
1920 4th Street
Cheney, WA
99004
Contact Info
questions@daviscomm.net
509-624-7129